和平之梦:为乌克兰而艺术
The Dream of Peace: Art for Ukraine
艺术家要有超越地域、种族、意识形态的勇气,以自由慈悲的精神关注人类的整体命运。
俄罗斯自2022年2月24日入侵乌克兰以来,普京正在冒天下之大不韪,公然蔑视人类进入二十一世纪当代所有文明准则,在全世界爱好和平的人们众目睽睽之下,悍然在光天化日之下发动战争残酷杀戮无数乌克兰平民包括儿童妇女,让数百万乌克兰人民流离失所,俄罗斯正在实施对乌克兰的种族灭绝!普京的倒行逆施已经遭到了全世界爱好和平的人们包括联合国决议的一致谴责!
战争必须停止,俄罗斯必须撤出所有乌克兰被占领土地!和平,是当今世界普遍遵循的基本原则,也是乌克兰人民应该得到的基本权利!为此,我们; 纽约后世纪画廊、郑连杰工作室、artfira.com共同组织在纽约这个国际大都会的Green Door Gallery举办一次国际展览:和平之梦:为乌克兰而艺术(The Dream of Peace: Art for Ukraine )声援乌克兰人民对俄罗斯的英勇抵抗, 停止战争,呼唤和平!
我们所有的艺术表达、对艺术的这种执着又是为了什么?虽然现在纽约已经完全没有疫情时期那种状态,我们的生活全部恢复了正常,大街上车水马龙,但是我们却没有释然的感觉,战争的残酷笼罩这个春天,让人内心充满不安。我们仍然是跟远方,跟战争在一起。
"我们需要成倍的勇气,以文学、艺术、音乐慰籍深情,弥合创伤。我们依然放纵勇气与爱,为吉祥、健康的人类!为苦难的昨天,为胜利!为光和盐!我们行动在自由中,为劳动,为希望!为和平!"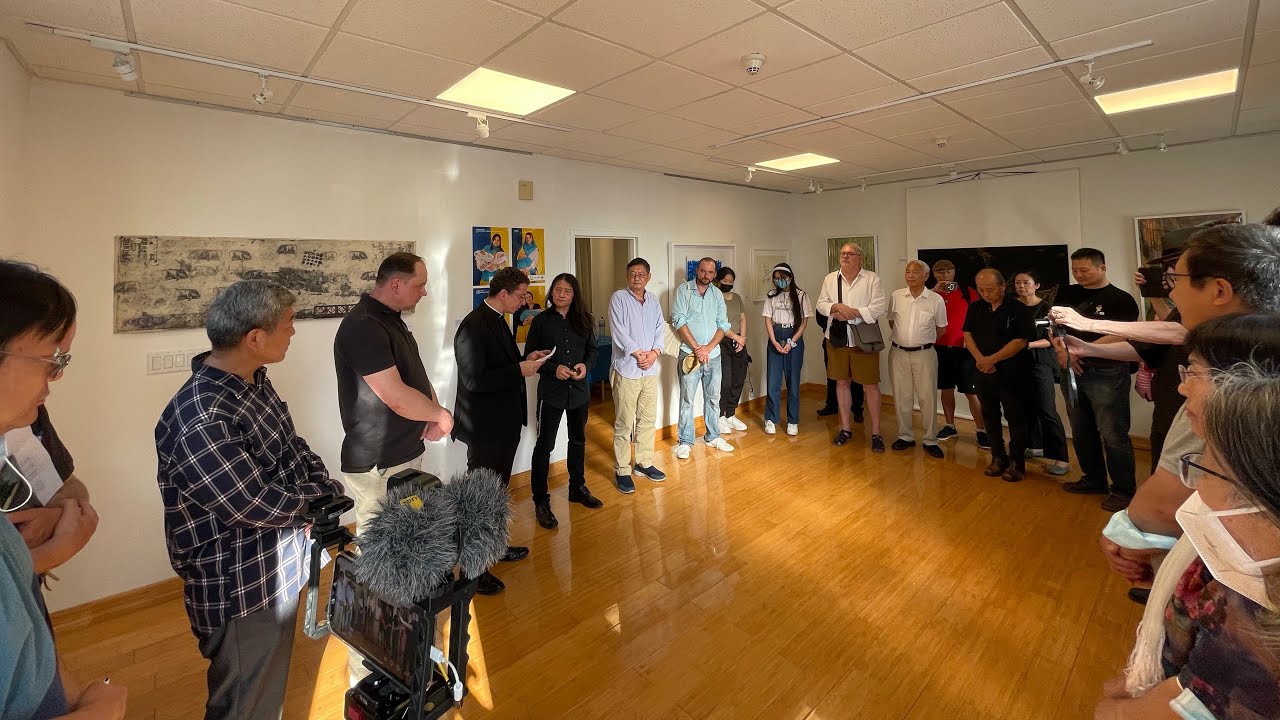 Alfonse Borysewicz
(born April 27, 1957) is a Brooklyn-based painter. He received his B.A. from Sacred Heart Seminary and M.A. from St. John's Provincial Seminary. He later attended the Studio School of the Museum of Fine Arts in Boston (1982–1984). He is the recipient of two fellowships from the Pollock-Krasner Foundation (1987, 1992) and a Guggenheim Fellowship (1995). Gregory Wolfe, an editor at Image, calls Borysewicz "one of the most important religious artists since the French Catholic Georges Rouault."
Anton Kandinsky
Anton Skorubsky Kandinsky was born into a family of artists on May 30, 1960 in Crimea, Ukraine. Kandinsky studied at The Children's Art School, the Crimean Specialized Art School in Simferopol in 1971-1975. He studied at the Simferopol Samokisha Art College in 1975-1979. The artist was a private art student of Yevsey Yevseyevich Moiseyenko in St. Petersburg, as well as at the Ukrainian Art Academy (Kyiv State Art Institute), where he studied at the Monumental Department, studio of V. Chekaniuk and M. Storozhenko in 1980-1986. Anton S. Kandinsky graduated from the Academy with a Masters of Fine Art degree in 1986 (also known as Chornobyl Year Graduation). In 1998 Kandinsky emigrated to the United States of America. The artist now lives and works in New York. In 2004 in New York, Kandinsky started the new art movement which he called "Gemism". Anton S. Kandinsky is a great-grandson of a world known Russian Avant-Garde artist, Wassily Kandinsky. A solo exhibition of Anton Skorubsky Kandinsky entitled "China-ism" has been held from October 1 to October 31, 2009 at Art Next Gallery,
Iulian Budea
Iulian's work connects so many things that are central to a dual Romanian-American experience. It integrates old-world symbolism with surrealist and expressionist elements, into images with universal appeal. His sketches combine elements of his own spiritual tradition, architectural elements pertaining to his dual heritage, symbols from Greek and Roman mythology, and the expressive human figure into a cohesive vision that has as much to teach us about ourselves as it reveals about our world.
Iulian lives and works in New York City and began to study art before he began studying. He has attended one of the best art schools in NYC, The Cooper Union, on a full scholarship. His work spans sculpture, painting, pen & ink and printmaking
Cang Xin
(born 1967) is an artist based in Beijing working in performance art and photography
Cang Xin approaches his work as a means to promote harmonious communication with nature. His works have included bathing with lizards, adorning the clothing of strangers, and prostrating himself on icy glaciers: each act represents a ritual of becoming the other. Cang Xin combines art and music. He gained an interest in art during his training in music school but never got any formal training in art. Most of his works are performance art. He was made famous by his Communication piece, a performance series where he licked various objects to become closer to them. These objects varied from bugs to posters to buildings and roads to the Great Wall of China. In Another Series he would swap closes with strangers. This Exhibition was called Existence in Translation and These exhibitions ties in with his shamanic beliefs that all life forms are linked by the endless transmigration of souls.
Cang Xin exhibited locally in China and internationally. He exhibited in group exhibitions in Seattle Art Museum, David and Alfred Smart Museum, Museum of Contemporary Art in Chicago, International Center of Photography, Museum of Contemporary Art Taipei, Guangdong Museum, Sydney Museum of Contemporary Art, Red Gate Gallery, Yuangong Art Museum in Shanghai. He participated in international art festivals, including International Art Expo in Bologna, International Photography Festival in Pingyao, Biennale of Sydney, International Performance Art Festival in Tokyo, Nanjing International Arts Festival. He also exhibited in several public galleries around the world, including China, Australia, USA, Spain and Italy. During a special exhibition focused on chinese contemporary artists, the auctionner Marc-Arthur Kohn organized the sailing of Cang Xin's masterpieces.
The Gao Brothers
are two Chinese artists named Zhen (born 1956) and Qiang Gao (born 1962)[1] from Jinan, in the province of Shandong (located in the north east of China).
Their works tend to be charged with political and social nuances, including their recurring use of Mao's image. Gao Zhen, the elder of the brothers, explained through an interpreter that "1968 was a crucial moment in the Cultural revolution, where political 'cleaning' took place. Our father, a simple laborer was thrown into jail. We still don't know if he actually committed suicide as the authorities told us or if he was killed during his incarceration".At that time, Gao Zhen was 12 years old and Gao Qiang was 6.
A retrospective of their work, "Gao Brothers : Grandeur and Catharsis", was organized by the Kemper Museum from September 17, 2010, to 2011, January 2. A brief presentation of their work shows the multifaceted nature of their art: the brothers combine diverse mediums such as painting, sculpture, performance, and photography. They currently work in the artists district called 798 Art Zone in the Dashanzi Art District, and their work is internationally recognized
Jason Yung
"Jason Yung is a New York-based Canadian new media artist working primarily in light, using LEDs, but also using other mediums.
Working with new media since 2016, Yung aims to bring together the visual principles of traditional painting with new media. Yung has strong interests in psychology, philosophy and spirituality.
Yung graduated from NYU's Interactive Telecommunications Program (ITP) in 2019."
Morgan O'Hara
(born 1941 in New York), is a conceptual artist based in Venice who works in performative drawing (Live Transmission) and social practice.
She was the recipient of fellowships from the Pollock-Krasner Foundation, Gottlieb Foundation, and Artists Fellowship Inc and The Pollock-Krasner Foundation's Lee Krasner Lifetime Achievement Award, which was awarded in 2017.
Her work is represented in public collections, including the National Gallery of Art, Washington, DC; the Hammer Museum, Los Angeles, California; the British Museum, London, UK; the Metropolitan Museum of Art, New York, NY; Kupferstichkabinett Berlin, Germany; Stedelijk Museum, Amsterdam; Cranbrook Art Museum, Detroit, Michigan; the Arkansas Arts Center, Little Rock, Arkansas; Weatherspoon Gallery, Greensboro, North Carolina; the Hood Museum of Art, Hanover, New Hampshire; the Czech National Gallery, Prague; Moravska Galerie, Brno, Czech Republic; and Macau Art Museum, Macau, China.
Her permanent site-specific wall drawings can be found in Macau, China (2); Kobe, Japan (9), and Amsterdam, the Netherlands.
Publications include seven volumes of LIVE TRANSMISSION drawings.
Pavlo Makov
He was born on August 28, 1958, in Leningrad in a family of doctors.about:blank - cite_note-2 When Makov was five years old, his parents moved to Ukraine, where he lived for some time in Rivne, Kyiv, and Simferopol. He studied at an art school for three years. Until the eighth grade he was mainly interested in biology and literature.[4]
In 1974, he entered the Crimean Art School named after MS Samokish in Simferopol, which he graduated in 1979. From 1977 to 1978 he studied at the St. Petersburg Academy of Arts, and from 1979 – at the Faculty of Graphics at the Kharkiv Art and Industrial Institute, which he graduated in 1984. As a child, Makov studied at a school with in-depth study of English and later worked with a teacher to whom he wrote letters from the army in English. For some time he worked as a master printer and taught.
In 1988, the Sumy State Art Museum acquired three works by Makov. In the same year, Makov became a member of the Union of Artists of Ukraine, and the following year won the Grand Prix at the All-Union Biennial of Easel Graphics in Kaliningrad. In 1991, four works by Makov were purchased by the Tretyakov Gallery. Since 1994, Makov has been a member of the Royal Society of Painters and Graphic Artists of Great Britain, where he taught at the Royal College of Art in the early 1990s. Since 2007, he is a Corresponding Member of the Academy of Arts of Ukraine.
Makov is interested in modern Ukrainian literature. In the 1990s, he was acquainted with the work of Yurii Andrukhovych and Oksana Zabuzhko, the latter advised him to read Taras Prokhasko.
He lives and works in Kharkiv.
In 2022, Pavlo Makov took part in the opening of the Ukrainian pavilion at the Venice Biennale. He presented the installation "Fountain of Exhaustion".
Seung Lee
Korean-American contemporary artist. He is currently Director of Fine Arts and Graduate Studies as well as Professor at Long Island University, Post Campus. He received a BFA in Drawing from Maryland Institute College of Art in Baltimore, Maryland and an MFA in Painting from Pratt Institute in Brooklyn, New York.
His paintings, drawings, and large-scale installations have been exhibited extensively in the US as well as internationally: China, Italy, France, Japan, and Korea. He has received numerous reviews in the New York Times, Newsday, Kyoto Times, Korea Daily News, Art Word Magazine, Art in Culture Magazine, Art Price Magazine, and Art and People Magazine. He has been featured in "Artist Profiles of Korea and Japan" several times.
Seung Lee received many awards; New York State Governor, Nassau County Supervisor, Suffolk county Supervisor, New Jersey City Mayor, and in 2011, Seung was awarded as "Best International Korean Artist" from Korean Art Association. Seung Lee was invited twice to give lecture as "NY Artist Series: Seung Lee" which was part of National Art Educators Association Conference in NYC. Seung has been a judge in Decentralization Grants for New York Artists, International Documentary Film Festival, Islip Art Museum's Cottage House Project, and International Nature Art Biennial, Mill Pond House Open Calls, etc…
Viktor Moskaluk Photographs
Vasyl Maksymovych Design
Karina Davydova Stylist
Chrystyna Berehovska, Concept and realization PhD in Art History, Lviv, Ukraine
The statement of works:
FROM FIRE TO LIFE
This art project is dedicated to the young Ukrainian women who either gave birth or are
expecting to give birth while escaping Russian bombardment of Ukrainian cities. Over 20000
children were born in Ukraine since the war started. The pregnant women have had to evacuate
literally under fire. Children are born in bomb shelters. The pregnant mothers have been escaping
the war by foot, by cars, buses, in overcrowded trains to reach safety and to protect the life of
their newly born or the as yet unborn children.
Every woman has her own story of escape. Transported and accompanied by their husbands,
once the women had reached safety of Lviv, the city located in western part of Ukraine, their
husbands returned to the frontlines. The women have come from Kharkiv, Zhytomyr,
Severodonetsk, Chernihiv, Boryspil, Zaporizhzhia and other cities under heavy shelling by
Russian warplanes and rockets. Over 100 pregnant women arrived in Lviv since the war started
on February 24, 2022. But when approached, only a few agreed to participate in this artistic
project. The rest were emotionally devastated, exhausted and scared.
The youngest model who participated in this project was one day old. Her name is Nicole. When
her mother who fled Kharkiv agreed to come for the photoshoot, she was still expecting. One day
before the photoshoot Nicole was born. Another participant, a young mother from Kyiv, named
her newborn daughter Javelina (the FGM-148 Javelin is an American-made portable anti-tank
missile system). This is a very creative approach. Javelina—metaphorically—and Javelin—
literally—protect Ukraine from Russian aggression. The young mother believes that her "child of
war" will be growing in a peaceful country that has won in this war. This art project is about a
moment, about survival, birth, and—make no mistake—about the future. The future of the
Ukrainian nation, the memory of this moment of a newborn Ukrainian child embedded in his/her
DNA.
Concept and realization of this artistic project is by Chrystyna Berehovska, PhD in Art History.
Photographs by Viktor Moskaluk
Design by Vasyl Maksymovych
Stylist: Karina Davydova
Special thanks for supporting this project to
Lviv Regional Military Administration
Board of trustees of the Lviv Regional Perinatal Center
UNICEF
Zheng Lianjie
(born 7 August 1962) is a Chinese contemporary artist, active in performance art, installation, photography, contemporary ink and video art. Zheng Lianjie is a representative figure in Chinese contemporary art. He is part of a generation of artists who grew up in China during the Cultural Revolution and in the 1980s turned from traditional forms of painting to installation art and performance-based work
Zheng Lianjie is a representative figure among the group of Chinese artists working abroad. Zheng divides his time between Beijing and New York. As a teenager, he studied traditional Chinese calligraphy and poetry and has continued to devote himself to the further exploration of ink painting and calligraphy over the past 30 years. His work spans a wide array of genres and styles, including calligraphy, contemporary ink painting, performance art, video, installation, sculpture, and conceptual photography.
In the early 1980s, Zheng spent 3 years at Palace Museum in Beijing studying traditional Chinese painting.[2] In 1986, Zheng founded one of the earliest painting schools in Beijing, "Beijing Earth Calligraphy and Painting Art School."[3] In 1992, Zheng's ink painting "Dance of the East" was awarded the Gold Prize in Korea's 9th International Art Show. The Korean Association of Artists held an award ceremony in Zheng's honor at the Tianlun Dynasty Hotel, which was widely covered in the local media, including Xinhua News Agency, CCTV, China Daily and China Youth Daily Newspaper. This early exposure introduced Zheng's artistic achievements to a much wider audience and heralded him as the first Chinese artist to initiate cultural and artistic exchange between China and Korea.
Moving into the mid 1980s, Zheng started experimenting with contemporary ink, and traveling all over China. He participated in Beijing's Yuanmingyuan art group in the late 1980s.(following Tiananmen Square protests of 1989) It was also during this time that Zheng began to become known for his subversive and critical stance toward conservative artistic language and pursuit of a new independent and individualistic style. He once said in early 1990s: "Avant-garde art should be a sharp knife, a weeping flower". Zheng turned to performance and installation art in the late 1980s. He is one of the earliest artists in China to integrate performance art with the natural environment.
Zheng immigrated to the United States in 1996, while he continued to explore the experimental side of contemporary ink painting and calligraphy, he also continued to use his body itself as a means to ponder immigration, assimilation and the different psychological challenges faced by individuals and society from different cultural backgrounds.[4] Several performance pieces from this period would become important chapters of contemporary Chinese performance art history.
Between 2004 and 2008, Zheng Lianjie returned to China once a year to make a pilgrimage to the holy Taoist Mount Hua. During his time on Huashan, Zheng meditated with a Taoist monk, an experience that would have a profound impact on his ink paintings and calligraphy from this period. Zheng's works fuses Taoism and natural aesthetics together, earning great critical acclaim. Zheng's work has been included in numerous exhibitions, symposiums and public art projects held all over the world. During the 2000s, Zheng Lianjie delivered invited talks and held exhibitions at major universities, including Harvard and Columbia. His work has also been featured in major media outlets such as The New York Times and The Asahi Shimbun. His works have been collected by museums, galleries, universities and several international private collectors.
In 2012,Zheng Lianjie was named as United Nations Messenger of Peace in LinZhou, China in recognition of his distinguished achievement in the art field